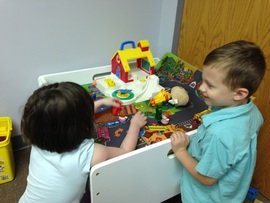 Applied Behavior Services offers social skills and other group classes to teach children and adolescents age appropriate social, leisure and group learning skills. Through the use of research based best practice strategies, each participant is taught skills needed to be successful in social, leisure and group settings. Prior to attending groups, our consultants complete an individualized skills and behavior assessment with each participant to pinpoint skills in need of development and ensure that each participant is placed in the appropriate class. After completion of the assessment, our consultants work with parents, caregivers and other team members to develop individualized goals and programming. 1:1 assistance by our highly trained behavior assistants is provided to each participant during group classes. Group classes are supervised by Board Certified Behavior Analysts or Associate Behavior Analysts.
---
To obtain information about our social skills and group classes, please contact us at (314) 305-0041 or
lisa@helpwithbehavior.com
.